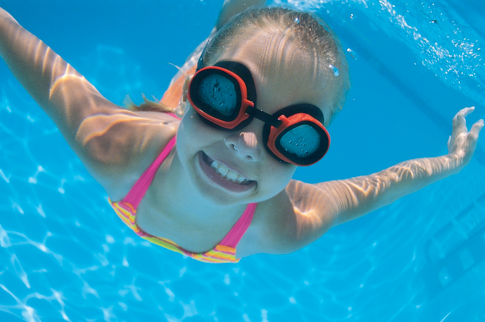 With summer heating up quickly here in Arizona, swimming pool safety has become quite an issue. There doesn't seem to be a week that goes by anymore where we don't hear of a drowning or near-drowning in a swimming pool here in the valley.
Even with prominent campaigns such as Dave Muncey's "Watch Your Kids Around Water", small children continue to slip by the watchful eyes and reach of parents and adults, finding their way into the back yard swimming pool.
Here are some recent statistics on pool safety:
In 1998, 4,406 people drowned, including 1,003 children younger than 15 years old.
Drowning is the second leading cause of injury-related death for children (aged 1 through 14 years), accounting for 940 deaths in 1998.
A swimming pool can provide a family with hours of entertainment as well as the opportunity for healthy recreation. However, pool owners must stay aware at all times and ensure a child's safety. Whenever a body of water exists whether that be a swimming pool, spa or even a the family dog's water bowl, the risk of a child drowning is ever present. There is no substitute for constant adult supervision. Most child drownings occur during a five-minute-or-less lapse in supervision.
However it is difficult to always keep an eye on children. I saw a recent news story where a mother was in the pool with her child and turned around for just a few seconds to only turn back and see her child at the bottom of the pool. Fortunately that incident did not turn into a fatality but all too often it does.
So what is one to do? How can you have a swimming pool that is beautiful and enjoyable but safe at the same time? One way is to provide a barrier between your child and the spa and/or pool, such as with a pool fence or pool cover product.
Pool Fences
Many people do not like the obstructive view that a permanent iron pool fence creates. However there are removable pool fence products that are available today which can provide safety barrier between a child and the pool and yet be removed when entertaining or having parties. A removable pool fence not only provides an excellent barrier to protect infants and young children, but will still allow for a clear view of your swimming pool.
Pool Covers
Another option is a swimming pool cover product. There are a variety of pool cover products available on the market today. Some consist of mesh while others are made of vinyl. Some pool covers are automated while others can be hooked into anchors. With a pool cover in place, you will all but eliminate the possibility of an accident occurring. The pool cover provides a barrier that stops unwanted entry into the pool – period. It can then be removed when the pool is in use.
Other Safety Precautions
Don't rely on one system. Layering safety precautions provides the strongest safeguard. Padlock gates that provide entry into your backyard. Make sure you have self-closing arcadia doors. If there are other types of doors that lead to a back yard with a swimming pool, make sure they are self closing. Ensure windows locks that are lower than 56 inches are secured. Install a pool alarm that will go off if someone or some thing falls into the pool.
Don't Neglect Your Pool!
One of the things that I am continuously seeing with all the stories of pool accidents and especially with the current West Nile Virus infected mosquito situation that we have in Arizona is green, nasty, dirty pools. I was recently looking at some aerial shots of some neighborhoods and was alarmed to see in one scenario three pools on one block that looked like a nasty green pond that an alligator would live in. On top of these pools not being kept up, they have no safety pool fence or and safety pool nets to keep people away from them.
If a person is not going to keep up their pool, then please – drain them! It would be much better for someone to fall in a break an arm than drown in a swamp. If you are afraid of someone falling it, then fill them in with dirt.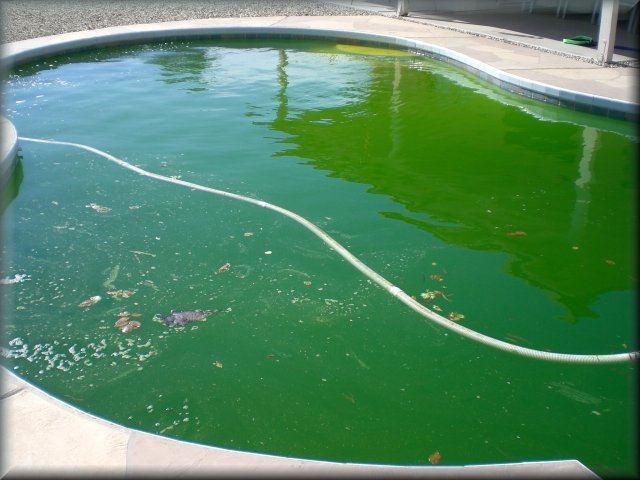 Swimming pools can provide a tremendous value to a home and offer hours of enjoyment, especially with the hot Arizona summers we have. However, with a pool comes responsibility. Pool fence and pool cover products are just one step in providing a safe and enjoyable back yard environment. Whatever steps you take, make sure that your enjoyable swimming pool stays that way and doesn't become a watery grave to a unsuspecting child.
Additional Safety Tips
Never leave a child alone – even for a second.
Maintain constant eye contact with your children when they are around the pool.
Do not consider young children water-safe because they have had swimming lessons. Swimming instructions for children under three years of age are not recommended.
Instruct babysitters about the potential hazards to young children in and around spas and swimming pools and the need for constant supervision.
Train all caretakers in life-saving, cardiopulmonary resuscitation (CPR) and first aid. No exceptions.
Install a telephone poolside with emergency numbers posted.
Keep toys away from the spa and/or pool when the spa and/or pool is not in use. They can lure a child into the spa and/or pool.
Use inflatable toys only under adult supervision. They may deflate or your child may slip off.
Post and enforce rules such as No Running, No Pushing, No Dunking and never swim alone.
Make sure you have rescue devices accessible poolside.
Keep all doors and windows leading from the house to the pool area secure. Install self-closing mechanisms on doors.
Enclose the pool with a barrier. In fact, fencing may be required in certain areas. Check your local city or county building code for more information.
Install only child-proof fences and gates around pools.
Avoid fences such as chain link that provide footholds for little climber's feet.
Place tables and chairs well away from the pool and/or spa fence to prevent children from climbing into the spa and/or pool area.
Investigate installing a spa/pool safety cover.
Check to ensure that spa and pool covers pass minimum safety requirements set by the American Society of Testing Materials (ASTM).
Never have the spa/pool cover partially in place since children may become entrapped under it.
Beware of a free-floating spa/pool cover. A child can slip beneath one unnoticed.
Realize that a child can drown in as little as two inches of water. Drain standing water off of your spa or pool cover.
Investigate using a spa/pool alarm and/or monitoring system that can be worn by a child.
Remove ladders and steps from aboveground pools. No objects should be in the aboveground pool area for a child to climb on and into the water.
Inspect safety and pool/spa equipment regularly. Preventative devices are only effective if they are in working order.