Service
Swimming Pool Service Companies
Featured Business – Blue Palm Pools

Blue Palm Pools a local swimming pool service and repair provider based in Anthem, Arizona. They currently service the areas of Anthem, Desert Hills, New River, Tramonto and the surrounding areas of North Phoenix. They look forward to providing you quality, prompt service for all of your swimming pool and spa needs.
Whether you need weekly chemical service or full maintenance, we can put your mind at ease regarding the condition and quality of your swimming pool. With our professional maintenance and repair services, your pool will always be at its best. You spend more time enjoying your swimming pool experience which is the whole purpose of owning a pool in the first place.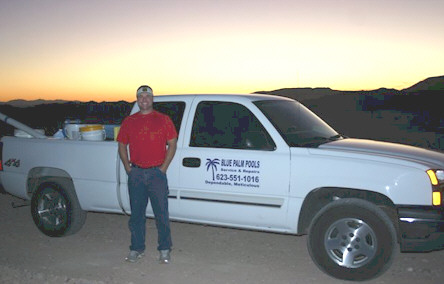 Happy Customers:
Sam McCracken, owner of Blue Palm Pools, is awesome! He has worked on our pool in the Country Club several times now and goes above and beyond. We came back from a 2 week vacation this summer and Sam worked on our pool while we were away, and it was so nice to come home to a sparkling clean pool! Recently we had an emergency (after a storm the pump and floor cleaners stopped working). Sam came up to our house on a Sunday and got it working again. Wonderful, honest, trustworthy, and hardworking…..I highly recommend him!

I enjoy my swimming pool once again – thanks to Blue Palm Pools. Sam provides an awesome service. His attention to detail is superb. My swimming pool had become more of a burden than recreational, having to constantly worry about the condition of the water or cleanliness of the pool. Now my worries are over and my pool looks and feels better than ever. I highly recommend Sam and Blue Palm Pools whether you need ongoing maintenance or simply a one time repair.

Contact Information:
Blue Palm Pools
39506 N. Daisy Mountain Dr., Suite 122-189, Phoenix, Arizona 85086
(602) 430-8985